Meet Our Remarkable Team: The Driving Force Behind Our Success and Your Trusted Partners in Excellence
Our leadership team has over 100 years of combined experience. crs field representatives, such as our Operations Managers and Account Representatives, are highly skilled professionals who believe in delivering top quality service to our clients. We fully realize that the backbone of our organization is our people. We are committed to proper supervision of our staff activities, providing a safe working environment, and rewarding their achievements.
William Rizzuto, Jr.
Co-Founder/Principal
William Rizzuto brings over 40 years of industry experience to crs facility services.
Beginning as an entry-level account support executive in a privately-owned service firm and rising to become the Chief Operating Officer, William managed a team of over 7,500 employees leading with charismatic dynamism and dedication to delivering quality services.
Working in tandem with Tom, William develops crs' business initiatives and market sector focus. He is also primarily responsible for the financial management of crs as well as new business development
Thomas F. Scholz
Co-Founder/Principal
A veteran of the facility support services industry, Tom Scholz brings over 40 years of experience to crs facility services' leadership team. Before co-founding and serving as principal, he led one of the largest privately-owned service firms in the industry, operating as Regional Senior Vice President.
Regularly engaging with operations, client development, and customer service teams, Tom has continued involvement in crs' day to day success. His significant operational background and business acuity, coupled with his commitment to delivering a superior client experience, truly makes Tom's leadership approach and perspective a unique differentiator.
Matt is a critical part of the crs management team charged with driving a culture of continuous improvement.
With over 10 years of experience in the building services industry; he is responsible for running all sales and operations for both the crs Mid Atlantic Region & The South Florida region. Matt brings strong executive acumen, personal integrity, and a vast knowledge of the industry and a commitment to creating a safe healthy working environment for all crs employees.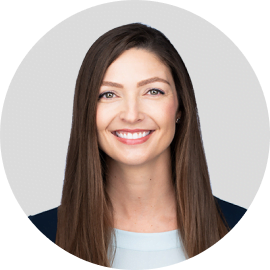 Nikki Stuart
SVP, Business Development Client Retention
Nikki is a seasoned sales and service professional with a proven track record of success.
With expertise in client relations, operations management, and team leadership, she excels in creating and executing sales strategies, optimizing processes, and managing cross-functional teams.
Committed to client satisfaction and operational excellence, Nikki drives business growth and delivers exceptional results.
Tina Brannon
VP,
Sales & Marketing
Bringing over 25 years of industry experience to the crs team, Tina is responsible for identifying and building new client relationships, while promoting external brand growth in the Mid-Atlantic region.
Tina's unwavering dedication to client satisfaction, coupled with her detailed business approach, brings tremendous value to all crs clients. A true team player, Tina's commitment to client retention through excellent service is a pillar of the crs team.
Julio Alfaro
SVP,
Director of Operations
Prior to joining crs, Julio Alfaro served as a project manager for janitorial crews in the greater Metro DC region. The properties under his domain ranged from 450,000 SF facilities to close to 1M SF and staffs of up to 50 personnel. With more than 20 years at crs, Julio has built a department recognized for providing high-quality service.
He is responsible for the daily management and quality control of the janitorial services provided for operations in the company's Maryland, DC & Virginia metro area markets.
David Weinstein
Senior Account Executive
David has been working in the commercial janitorial industry for over 30 years.
Prior to joining crs, he worked for a national contractor as well as starting and running his own business.
He brings with him a wealth of operational knowledge and sales experience.
Victor Valderrama
VP,
Director of Operations
With over 30 years of experience in the janitorial industry in the South Florida region, Victor is the leader of crs Facility Service, LLC.
As a specialist in operations and team development to service clients, Victor has been part of crs for the past 5 years.
Not only is Victor widely recognized in the market, but he and his wife Vivian are also proud parents of two daughters and one son and have recently become grandparents.
Our Operations Team has over 260 years of combined experience in commercial janitorial services. Most of them have spent their entire careers with crs Facility Services, and we are grateful to have them be such long standing members of our team. They are the backbone of our business and the real differentiator to our outstanding services.
accountability from top to bottom
It seems that the larger a service company gets, the less of it there is. And often, no matter whom you talk to in the organization about your issue, the responsibility lies with someone else. crs has never operated that way and never will. Our competitive advantage is a company-wide spirit of personal responsibility.
Everyday, it starts at the top. Our five co-founders don't sit behind desks. They are operational managers who are directly involved in servicing facilities and take personal responsibility to make sure our team is not just meeting your expectations but exceeding them regularly. They have also created an entrepreneurial culture that encourages employees to deliver a personalized level of service unlike any you've experienced; always looking for ways to improve quality and cut your costs. And solving problems before they become problems for you. It's how we do business.